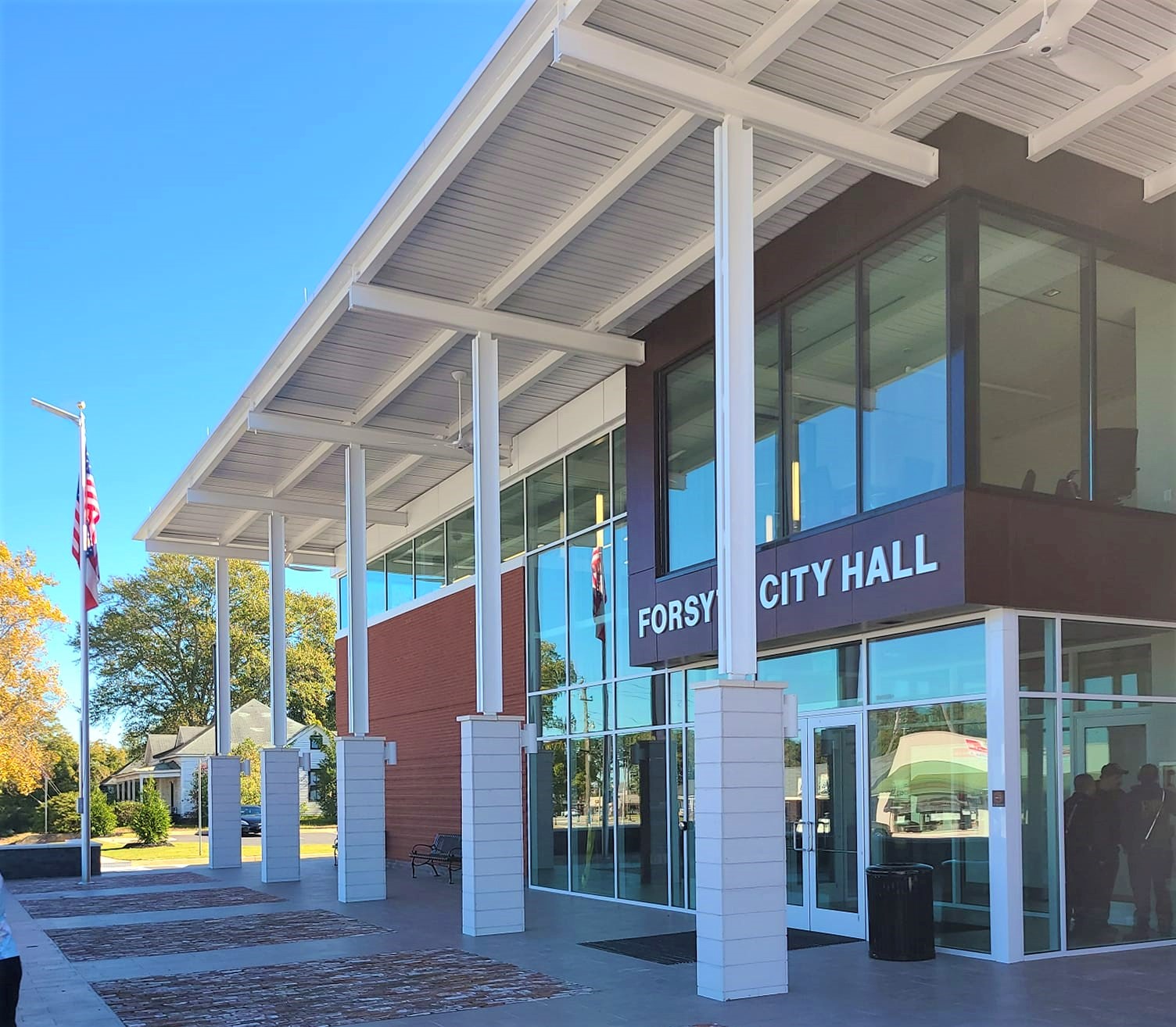 Forsyth City Hall is located at 23 E. Main Street and serves as home for the following Departments:
Mayor and Council

General Administration (Includes Utility Payments, Business Licenses, Municipal Court)

Planning & Community Development
Our normal business hours are Monday – Friday from 8:30am – 5:00pm.
At the heart of our commitment to providing exceptional service to our community lies our dedicated professional administrative services staff. Whether it is utility payments/services, business licenses, planning/development assistance, or help resolving traffic citations, our team, under the supervision of the Assistant City Manager, is here to make your experience as smooth and efficient as possible.
Mayor and Council

:  Requests to address the Mayor and Council members may be made by contacting the City Clerk at City Hall or via phone at 478.994.5649.

Utility

Payments:  Payments may be made daily inside City Hall or through the drive-thru, via phone by calling toll free 844.317.8353, or online on the Payments tab on this website. Please note that payment for utility services that are on the cutoff list cannot be made on-line. Visit our "Utility Services" tab for additional information.

Municipal

Court: Citations may be paid at City Hall or via online on the Payments tab on this website. Court sessions are held at 68 N. Lee Street. The Municipal Court Clerk is located in City Hall and is available to assist with concerns regarding citations.

Business Licenses (Occupation Tax)

:  All businesses operating within the city limits are required to have a business license and the license must be posted at the business. Licenses must be renewed by March 1st of each year to avoid a penalty.  For your convenience, the forms needed to establish your business as well as additional information are provided on our "Starting a Business" tab located under the Publications tab of this website.  Please bring the forms to City Hall for the final computation of your fee. 

Planning/Community Development

:  If you have questions or concerns regarding zoning or Community Development opportunities, please reach out to our Community Development Director located in City Hall or by phone at 478.994.7747.  Additional information may be found on the Community Development tab located on this website.