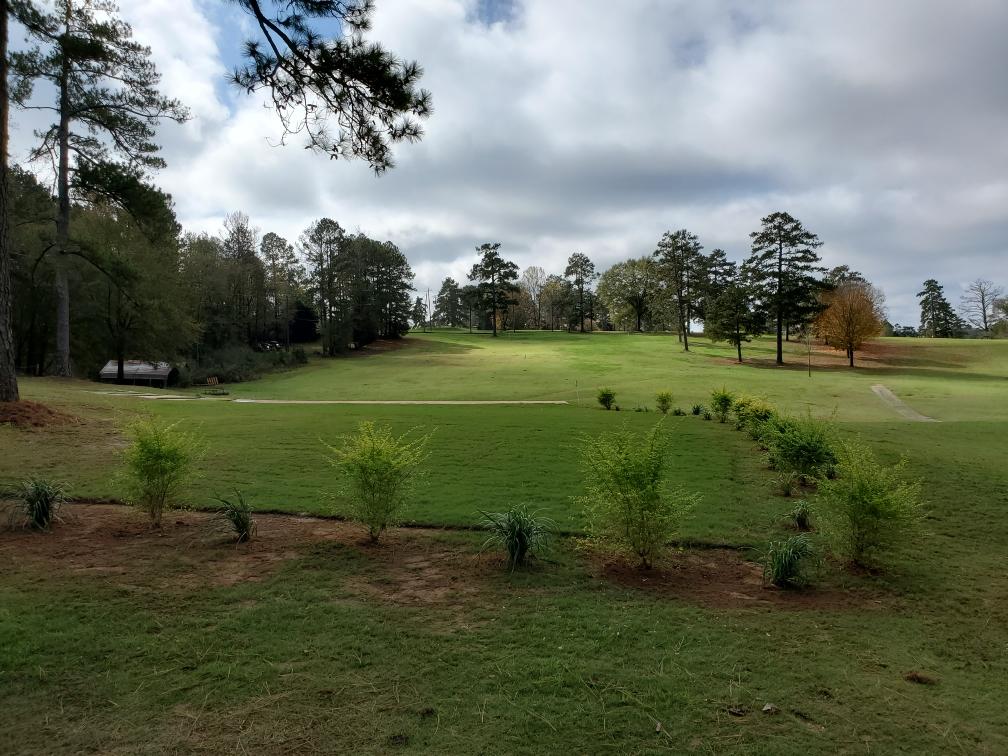 The Forsyth Golf Club was originally designed as a 9-hole public course under the Works Progress Administration (WPA) program authorized by President Franklin Delano Roosevelt in 1935.  The club later expanded to its current 18-hole, 72 par measuring 6053 yards from the longest tees.  With a slope rating of 112 and a 68.1 USGA rating, and course features 3 sets of tees for different skill levels. 
Notice:     
Effective March 14, 2022 course hours will be 8:00 AM until 7:00 PM.
Please notice that there will be ONLY Foursomes on weekends and holidays. No tournaments are scheduled at this time.
Please call the clubhouse at 478-994-5328 for any information. We do not take tee times at the course. It's first come first serve.
Weekday rates are $26 for 18 holes. Weekend rates are $33 for 18 holes.
Location: 400 Country Club Drive | Forsyth, GA 31029 | Phone: (478)994-5328 | Club House and Course Hours: 8am – 7pm. 
Front 9:  Holes 1 (par 4) and 7 (par 3) feature inclines to reach the green; Hole 3 (par 5) has a narrow, right of center fairway between groves of trees that lead to an open look at the green strategically placed between two front edge sand traps.  Hole 6 (par 4) features a blind tee shot over the rise leading to a tricky dome shaped green.  Hole 8 (par 4) is known as "The Pond."  It will take a well-placed drive over nearly 100 yards of water to put any golfer in position to reach this elongated (left to right) and narrow (front to back) green in regulation.
Back 9:  Three par 5 holes are the centerpiece of the back nine. Hole 11 (par 5) is the longest and most challenging hole on the course.  A left to right creek cuts across the fairway half-way to the green.  Once across the creek, be aware of the left to right slope that could place you in the second creek which lines the left edge of the fairway.  The hole is nestled in the back left corner on one of the fastest greens on the course.  Hole 16 features a short par 5 with an upper and lower fairway.  A word to the wise … the upper fairway has the best look to the green.  Hole 17 is the last and easiest of the par 5 holes with rolling hills that lead to an open green.
Currently there are no tournaments scheduled. Please check back often for information on upcoming tournament.
Rates – Non-Members
Monday – Friday
With Cart – (18 holes): $24.00; (9 holes): $15.00
Walking – (18 holes): $13.00; (9 holes): $7.00
Weekends and Holidays
With Cart – (18 holes): $30.00; (9 holes); $20.00
Walking Restricted until after 3:00 p.m. – rates are the same as weekday walking 9 or 18
Rates – Members (must have annual membership)
Weekday, Weekend, or Holidays
With Cart – (18 holes): $13.00; (9 holes): $8.00
*rates are at the "with cart" rate; there is no additional charge beyond the membership rate for walking the course, walking restrictions remain in place as for non-members
Annual Membership Fees:
Under 65 years of age: $450, then $13.00; $8.00 (9 holes) – weekday, weekend, or holiday*
Ages 65 and over: $400, then $13.00; $8.00 (9 holes) – weekday, weekend, or holiday*