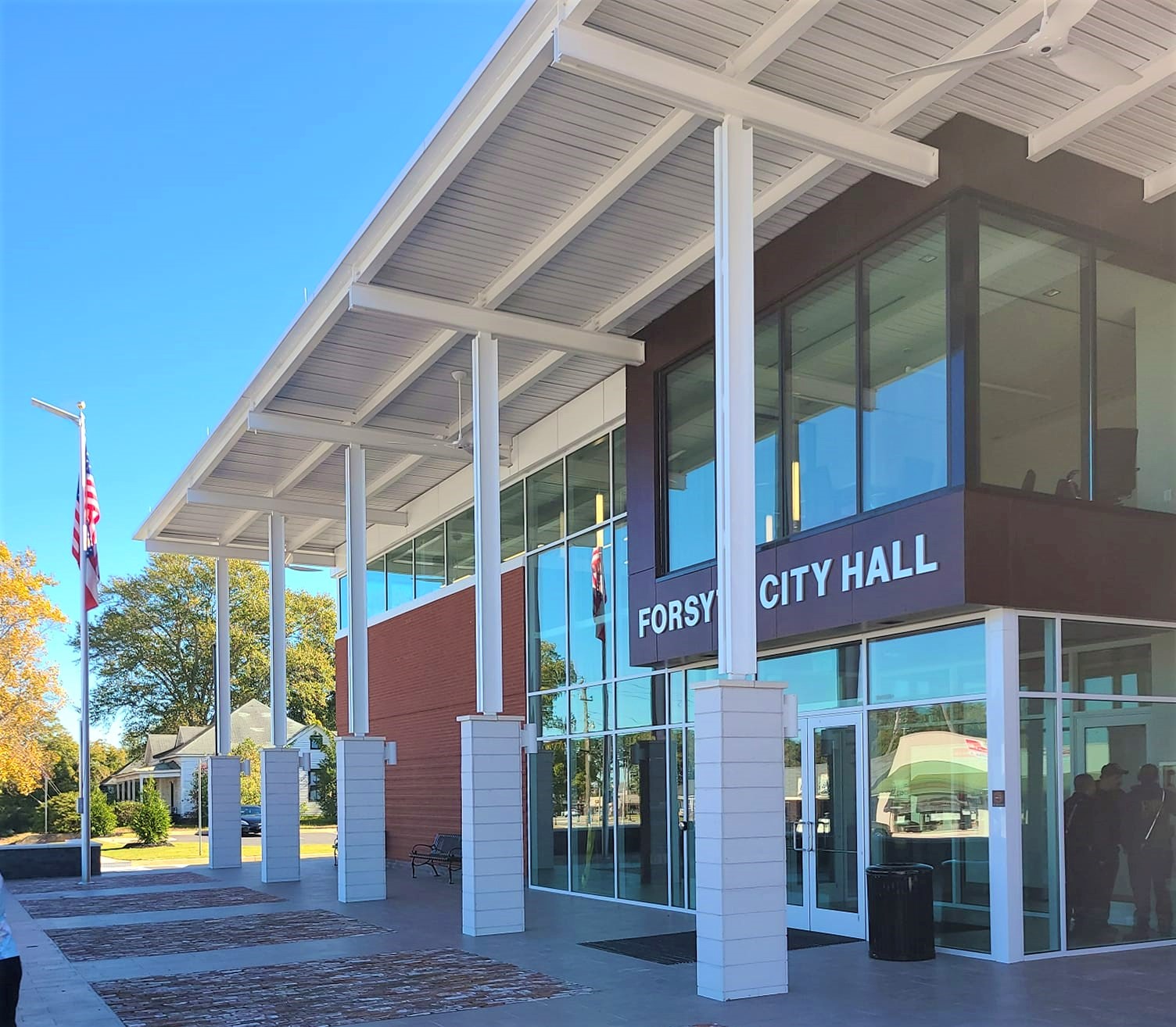 Forsyth City Hall is located at 23 E Main Street. 
The City of Forsyth is governed by a City Manager form of local government. Six members serve on the City Council. They are all elected at-large, by Post and serve staggered four-year terms. The Mayor is elected via popular vote in an at-large election and serves a four-year term.  There are no term limits for Mayor or City Council.
Council meetings are held in council chambers. City Council meets the first and third Monday of each month at 6:00 p.m. If you would like to be on an agenda please contact the City Clerk at (478) 994-5649.
Departments located within City Hall
Mayor & Council
Administration Department
Economic Development Department
City Hall employs a full-time administrative staff under the supervision of the Assistant City Manager. This office handles the administration and financial management of the city, coordinates and implements the policy decisions of the City Council.
Utility payments can be made daily at the payment suite or the drive thru Monday - Friday 8:30 a.m. to 5:00 p.m. 
Utility payments can also be paid ONLINE at the payments tab on this website or by calling toll free 844-317-8353.
Municipal Court Clerk is housed in City Hall and has the jurisdiction and authority to try misdemeanor offenses committed inside the city. The municipal court is presided over by the judge of the court who is appointed by the City Council. The court clerk is available to answer questions regarding citations and conducts the secretarial and financial aspects of the municipal court. 
Municipal Court is held at 68 N Lee Street. Court Clerk:  Janet Eldridge  
All businesses operating within the city limits are required to have a business license. Licenses must be renewed by March 1st of each year to avoid a penalty fee. The State of Georgia honors any business license issued by any city/county in Georgia. Please make sure that you have a copy of your business license posted at your business location as periodic checks are made to ensure that all business owners are following local and state law.
Forms
Please bring the forms to City Hall for final computation of your business license fee.