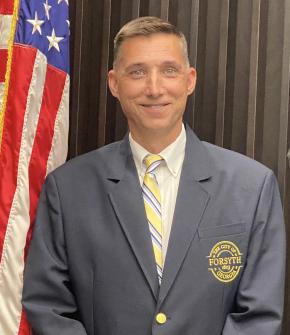 Mayor
Eric Wilson was elected Mayor of Forsyth in November 2015 and took office on January 5, 2016. Prior to being elected Mayor, Eric served on Forsyth City Council for nearly six years.
Eric is co-owner, President and CEO of MedPro EMS, a private ambulance service, located in Forsyth and Warner Robins. In addition to his management responsibilities as owner of MedPro EMS, Eric is a licensed paramedic. He has been a small business owner since 2000. Prior to owning his own businesses, he served as a regional project manager with the Georgia Department of Economic Development from 1998 to 2002.
Eric serves as chairman of the Georgia Association of Regional Commissions (GARC), chairman of the Middle Georgia Community Action Agency and Public Safety Policy Committee chair for the Georgia Municipal Association. He serves on the board of directors for the Municipal Electric Authority of Georgia (MEAG), Georgia Municipal Association (GMA), Central Georgia Technical College, Region 5 Emergency Medical Services Council, Middle Georgia Regional Commission, Middle Georgia Clean Air Coalition and the Monroe County Health Board. Eric is past chairman of the Forsyth-Monroe County Chamber of Commerce.
Eric is a native of Nahunta, Georgia and has lived in Forsyth since 2002. He holds a Bachelor of Arts degree in history from Brewton-Parker College and is a 2005 graduate of Leadership Monroe.